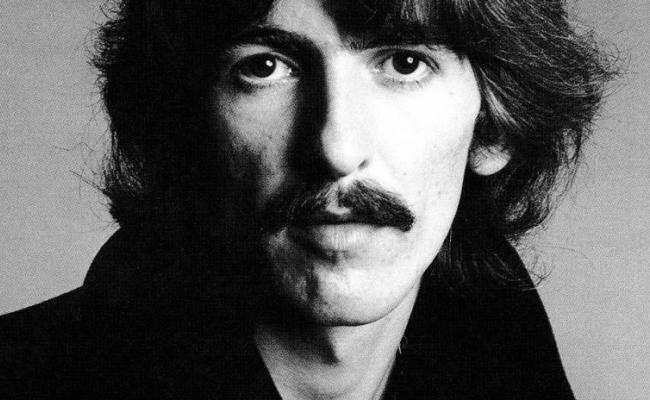 George Harrison (Liverpool, 25 de febrero de 1943-Los Ángeles, 29 de noviembre de 2001) fue un músico multiinstrumentista, compositor, cantautor, productor musical, productor cinematográfico y actor británico, guitarrista y cantante de la banda de rock The Beatles. Aunque John Lennon y Paul McCartney fueron los principales compositores dentro del grupo, Harrison también incluyó composiciones propias en los discos de The Beatles, tales como «I Need You», «Taxman», «I Me Mine», «Within You Without You», «While My Guitar Gently Weeps», «Something» y «Here Comes the Sun».
Las influencias musicales más tempranas de Harrison incluyeron músicos como Big Bill Broonzy, Chet Atkins, Chuck Berry, Ry Cooder y Buddy Holly. En 1965, fue pionero en introducir música hindú en occidente a través de instrumentos como el sitar, que tocó en canciones como «Norwegian Wood (This Bird Has Flown)» y «Within You Without You». Harrison tuvo también un especial interés por la cultura y religión hindú a través del movimiento Hare Krishna e introdujo a sus compañeros de The Beatles a la filosofía oriental a través del maharishi Mahesh Yogi, determinante en la evolución musical del grupo desde la grabación de The White Album (1968).
Tras la disolución de The Beatles, Harrison publicó All Things Must Pass (1970), el primer álbum de un beatle en solitario que alcanzó el primer puesto en la lista Billboard 200. Este álbum contó con la participación de varios músicos, entre ellos Ringo Starr a la batería y Eric Clapton a la guitarra. La producción estuvo a cargo del mismo George Harrison y Phil Spector, quien trabajó junto a los Beatles en el álbum Let It Be. También organizó, con Ravi Shankar, The Concert for Bangla Desh (1971), el primer concierto benéfico de la historia de la música rock y precursor de eventos benéficos como Live Aid. A lo largo de su carrera obtuvo varios éxitos musicales con sencillos como «My Sweet Lord», «What is Life», «Give Me Love (Give Me Peace on Earth)» y «Got My Mind Set on You», participó como guitarrista en grabaciones de una larga lista de músicos y grupos como Badfinger, Ronnie Wood, Billy Preston y Eric Clapton, y cofundó con Bob Dylan, Jeff Lynne, Roy Orbison y Tom Petty el supergrupo Traveling Wilburys. Su trayectoria musical ha sido reconocida con varios premios: entró en el Salón de la Fama del Rock and Roll de forma póstuma en 2006, y la revista Rolling Stone lo situó en el puesto 11 de la lista de los cien guitarristas más grandes de todos los tiempos.
De forma paralela a su trabajo como músico, Harrison también trabajó como productor musical y cinematográfico. En 1974 fundó Dark Horse Records, un sello independiente bajo el que publicó sus discos desde Thirty Three & 1/3 (1976) hasta Brainwashed (2001), y creó HandMade Films, una productora que financió largometrajes como La vida de Brian y Time Bandits.
Harrison contrajo matrimonio en dos ocasiones: con Pattie Boyd, de quien se divorció en 1977, y con Olivia Trinidad Arias, con quien tuvo su primer y único hijo, Dhani. En noviembre de 2001, Harrison falleció a los 58 años tras sufrir un cáncer de pulmón, y sus cenizas fueron esparcidas en una ceremonia privada en los ríos Ganges y Yamuna.