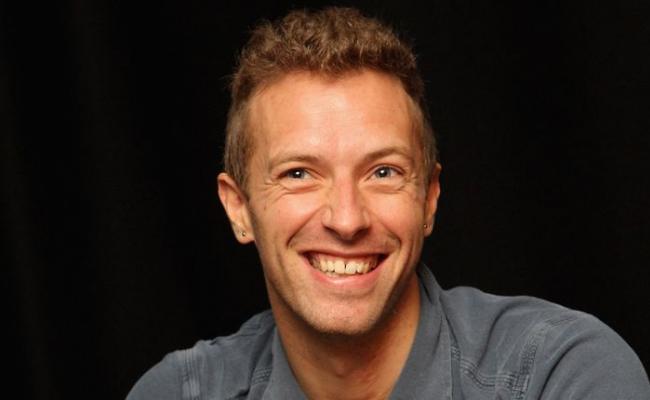 Christopher Anthony John Martin (Exeter, Devon, 2 de marzo de 1977), más conocido como Chris Martin, es un cantante, músico, compositor, productor discográfico y filántropo, cofundador y líder de la banda británica Coldplay. Su registro de voz es de barítono y se distingue por su expresividad al habitualmente utilizar el falsetto en las voces principales. Es conocido además por su activismo en campañas a favor del comercio justo y en contra del hambre en el mundo. Ha dicho en más de una ocasión que nunca trabajará de cantante solista debido a la estrecha amistad que ha formado con sus compañeros de banda.
Coldplay
Después de conocer a Jonny Buckland, Will Champion y Guy Berryman en la University College de Londres, los cuatro formaron la banda de rock alternativo Coldplay en enero de 1996. La banda se hizo famosa y logró éxito internacional gracias a su álbum debut, Parachutes, en el año 2000. Desde entonces han lanzado varios álbumes y EP, entre los que se encuentran A Rush of Blood to the Head, Live 2003, X&Y, Viva la Vida or Death and All His Friends, Prospekt's March, LeftRightLeftRightLeft, Mylo Xyloto, Live 2012, Ghost Stories, Ghost Stories Live y A Head Full of Dreams.
Colaboraciones
Pese a que ha dicho que jamás trabajaría en solitario, Martin ha escrito canciones para una gran variedad de artistas como Embrace («Gravity») o Jamelia («See It In A Boy's Eyes»). Ha colaborado con Ron Sexsmith, Faultline, The Streets e Ian McCulloch, también cantó parte de la letra de la canción «Do They Know It's Christmas?» de Band Aid 20 a finales de 2004. En 2005, colaboró como productor de Nelly Furtado en el single «All Good Things (Come to an End)» para su álbum Loose. Tras la actuación de ambos en el Festival de Glastonbury en el 2002 se crearon rumores de que podrían ser pareja, aunque Furtado bromeó diciendo: "Sí, es mi novio; solo que él no lo sabe todavía". El gusto de Martin por el hip-hop viene desde el verano de 2006 cuando colaboró con el rapero Jay-Z en su álbum de regreso Kingdom Come. En 2006, Martin compartió con Kanye West una sesión de jazz improvisada en los Estudios Abbey Road. Dicha colaboración, «Homecoming»,está incluida en el álbum de West, Graduation. En 2015, colaboró con el DJ Avicii en 2 canciones para el álbum de este llamado Stories, la primera con el nombre "Heaven", Martin cantaría en el demo y en una de las presentaciones con su banda (la versión final de álbum del DJ quedaría con la voz de Simon Aldred, del grupo Cherry Ghost). El 22 de Febrero de 2017 lanzó junto The Chainsmokers en "Something Just Like This". Ese mismo año aparecería tocando el piano y cantando junto a la cantante pop inglesa Dua Lipa en una canción llamada "Homesick" para su álbum debut lanzado el 2 de Junio de 2017.