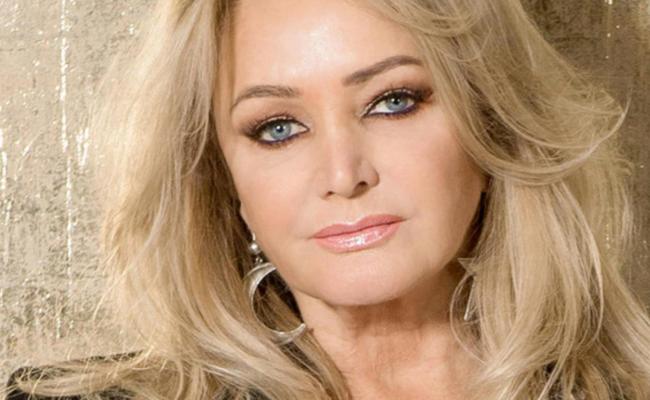 BONNIE TYLER
Bonnie Tyler (nacida como Gaynor Hopkins , el 8 de junio de 1951) es una cantante galesa , conocida por su distintiva voz ronca. Tyler saltó a la fama con el lanzamiento de su álbum de 1977 The World Starts Tonight y sus sencillos " Lost in France " y " More Than a Lover ". Su sencillo de 1978 " It's a Heartache " alcanzó el número cuatro en la lista de singles del Reino Unido y el número tres en el Billboard Hot 100 de Estados Unidos .
En la década de 1980, Tyler se aventuró en la música rock con el compositor y productor Jim Steinman . Escribió el mayor éxito de Tyler, " Total Eclipse of the Heart ", el sencillo principal de su álbum de 1983 que encabezó las listas de éxitos en el Reino Unido, Faster Than the Speed of Night . Steinman también escribió el otro gran éxito de Tyler de los años 80 " Holding Out for a Hero ". Tuvo éxito en Europa continental durante la década de 1990 con Dieter Bohlen , quien escribió y produjo su éxito " Bitterblue ". En 2003, Tyler volvió a grabar "Total Eclipse of the Heart" con la cantante Kareen Antonn . Su dúo bilingüe, titulado " Si demain ... (Turn Around) ", encabezó las listas francesas.
Rocks and Honey fue lanzado en 2013 y presenta el sencillo " Believe in Me ", que interpretó representando al Reino Unido en el Festival de la Canción de Eurovisión 2013 en Malmö , Suecia. Después de reunirse con el productor David Mackay , lanzó Between the Earth and the Stars (2019) y The Best Is Yet to Come (2021).
Tanto "It's a Heartache" como "Total Eclipse of the Heart" se encuentran entre los sencillos más vendidos de todos los tiempos , con ventas superiores a los seis millones cada uno. Su trabajo le ha valido tres nominaciones a los premios Grammy y tres nominaciones a los premios Brit , entre otros reconocimientos .